Custom graphic design done efficiently. When you need results.​
We conduct precise, non-interfering remote inspections that produce ultra-high resolution and ultra-high quality airborne magnetic survey data, quickly and safely.
Magnetic Survey is an effective and efficient geophysical method that records spatial variations in the Earth's magnetic field intensity to image anomalies caused by source bodies within the sub-surface. Using this method, we can map out changes in the amount of magnetic minerals as well as the associated rock types, measuring the magnetic-field intensity and, sometimes, the magnetic inclination, or dip, and declination (departure from geographic north) at several stations. 
This is valuable for a wide range of applications such as delineating the boundaries of mineral-bearing ore bodies, oil-bearing sedimentary structures, volcanic units, hydrological and environmental searches, and the detection of cabling and pipelines.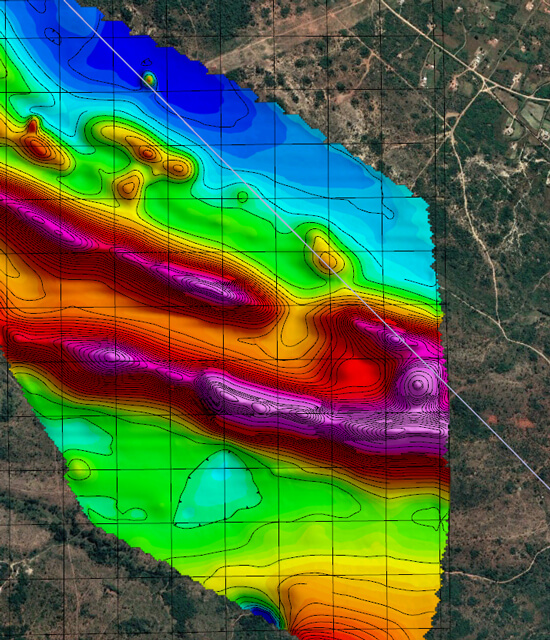 Using drones, Scout Aerial Africa conducts topographic surveys to produce highly accurate survey-grade measurements in a fraction of the time when compared with traditional terrestrial methods. 
This substantially reduces the cost of a site survey and the workload of specialists in the field. One drone flight can produce thousands of measurements, which can be represented in different formats – orthomosaic, point cloud, DTM, DSM, contour lines, etc. which can be used in the production of cadastral maps, land use mapping and management, slope monitoring, urban planning and many other applications.
Topographic maps can be produced faster and at much lower costs while still providing accurate and exhaustive fit-for-purpose data. This type of survey is applicable in mapping area boundaries, buildings and structures, vegetation cover, water channels (such as brooks, streams, ponds and lakes), ground heights, contours and surfaces, drainage features etc.
We provide accurate land measurements to give you a clear indication of how an existing site is arranged, helping to guide decisions when it comes to planning new buildings, re-positioning of existing boundaries, design of drainage schemes for a site, and more.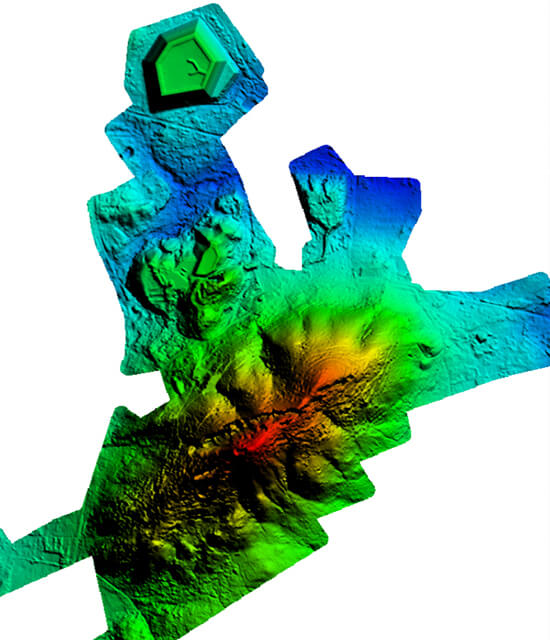 Using aerial imagery captured by drones, we can generate point clouds, digital surface models, digital terrain models and a 3D reconstruction of a site, including its stockpiles.
As the point cloud contains several thousand data points, very accurate volume calculations can be performed quickly and easily. This enables high-accuracy calculation of stockpile values for monthly reconciliations or year-end audits, improving the consistency of inventory reports in the company and allowing for efficient allocation of resources. With unbiased results, you can also validate the amount of material moved by sub-contractors.
This type of survey is also applicable in Waste Management, Mine Planning, Land Use Planning as well as Pit and Dump Management, just to name a few.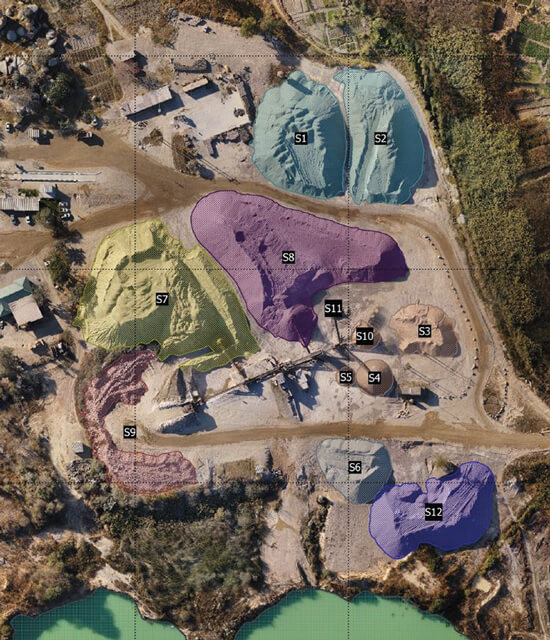 Scout Aerial Africa is an industry leader in providing Bathymetric Surveys – a type of hydrographic (water-based) survey that measures the depth of a water body and maps its underwater features.
Our advanced sonar systems and experienced technicians record highly accurate geographic positions to generate precise 3D models of underwater terrain, giving you the ability to conduct a detailed analysis of river beds and monitor it over time. The data can be used to understand patterns of erosion, water level movements, and subsidence.
Bathymetric surveys can be undertaken to measure the depth of mine pits, creeks, rivers etc. to model underwater terrain for monitoring changes, ensuring safety and managing compliance.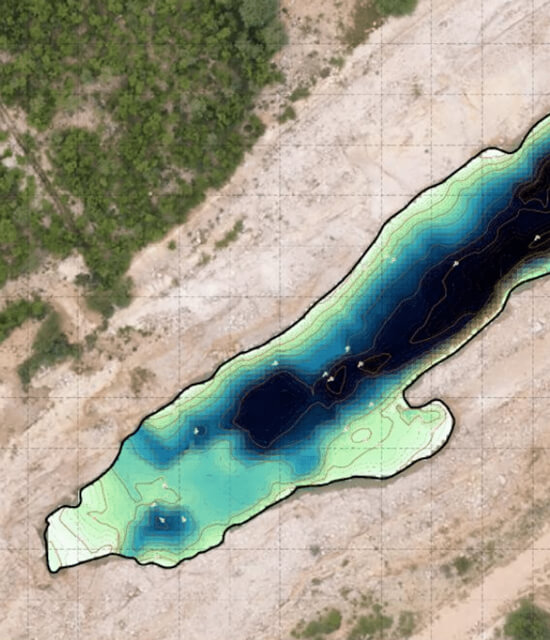 Environmental Assessment (EA) is a structured approach to predicting the impacts of a proposed action before it is implemented. Once the impacts are known or estimated, measures can then be taken to avoid damaging the environment (including the livelihoods of people living in that environment) and enhance its benefits.
Using drones, Scout Aerial Africa can quickly and easily identify vulnerable areas, show patterns of erosion and change, identify boundaries to characterize natural features or physical objects on the ground, observe surface areas and objects on a systematic basis and monitor their changes over time.
Companies can monitor their environmental compliance regularly and at low cost, producing extremely accurate results which allows for improved decision-making. 
Furthermore, machine learning can be employed to automatically detect objects such as trees, to accurately count them in forest areas or plantations. This enables foresters to achieve what used to take many hours of work in just a few, with almost no manual work involved. To date, Scout Aerial has successfully conducted several of these biological asset audits and produced satisfactory results for clients.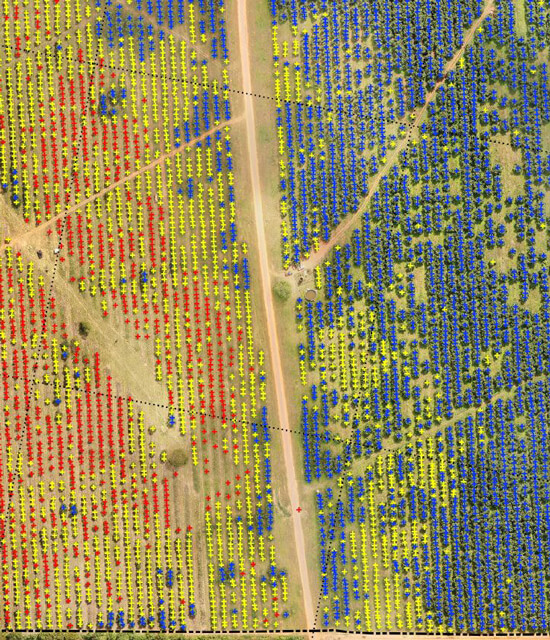 Precision Agriculture is an understanding based on the fact that a farmer has all the information about a section of land for efficient planning and production.
Agricultural drones provide growers, service providers and Ag researchers a fast and efficient way to scout their crops, identify stress, create treatment plans, track plant growth, and much more.
Using high-resolution RGB cameras and professional multispectral sensors, our drones can detect and quantify crop health problems early on. Crop health aspects such as chlorophyll content, canopy structure, height, alignment, and moisture content can be quickly identified and addressed. These valuable insights can reduce input costs and boost yield.
Drones provide an immediate snapshot of a field in a fraction of the time it would take to survey on foot, thereby providing regular information to generate prescription maps and focus treatments from emergence to harvest.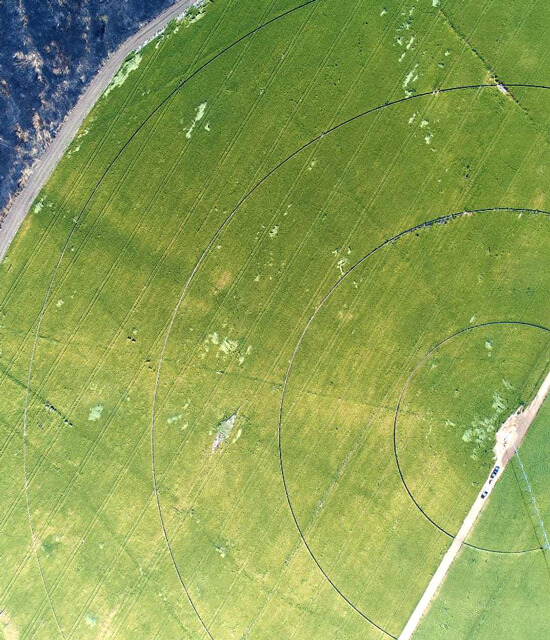 Construction & Infrastructure
The use of drones throughout a construction project provides an unparalleled record of all activities, cuts planning and survey costs, increases efficiency and accuracy, and eliminates disputes over the status of a project at a given point in time.
From the bidding and preplanning stage of any construction project, we carry out a topographic survey to get a full understanding of the site from the various outputs from the survey (DTMs, DSMs, Contours, Drainage etc.). The same images can be used in the planning and design stage and once the project enters the execution stage it takes less than 24 hours to go from the images to 3D models of the site to monitor progress from different vantage points to help with things like earthworks logistics.
One of the most striking advantages of accurate site visualization is the ability to overlay the CAD on the ortho-photo. This allows you to compare what was actually built with the plan and make sure that they fit together. Site managers can then identify differences between planned and real-time progress and steer projects accordingly.
Ensuring quality maintenance of the finished product is not always easy to do at a reasonable cost. By sending drones in the air, companies can visually inspect large assets or those located in hard-to-reach areas more quickly and cost-effectively.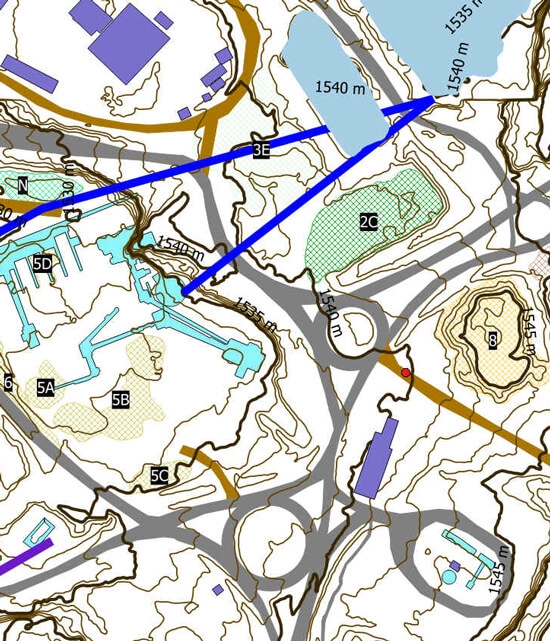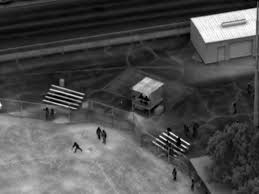 Machine Learning (Illegal Mine Tracking) ​
Tracking of illegal mining activity has never been safer, easier, efficient, or more accurate. Our team uses high resolution drone data and artificial intelligence to detect, count & understand spatial distribution of illegal mine shafts. This enables stakeholders to understand the behavior of these artisanal miners across different areas with different lithology. Operations are conducted safely without any interaction with the illegal miners.